(LoD refers to the Legacy of Dreams Legendary Gem).
Nicknamed the "Bazooka" build, this is a highly flexible build that is capable of incredible damage. Damage on this build revolves around Meteor. It does not rely on any sets, but rather a few legendaries to enhance your Skills.
Skills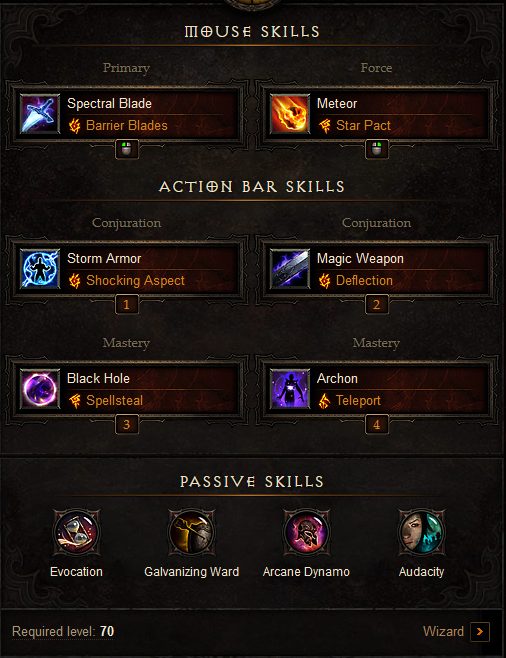 This build mainly involves the use of Meteor, using it with the Star Pact Rune to deal massive damage to groups.
Besides Meteor, the other core Skills of this build are:
Passives
Equipment
The Grand Vizier, Mempo of Twilight, and Nilfur's Boast all greatly enhance Meteor. The Swami and Fazula's Improbable Chain both boost Archon. Squirt's Necklace and Convention of Elements boost overall damage, while Pauldrons of the Skeleton King, Aquila Cuirass, Stone Gauntlets, Ashnagarr's Blood Bracer, and Halo of Karini all boost survivability. Obsidian Ring of the Zodiac will reduce all of your cooldowns.
Legacy of Dreams is an essential Legendary Gem to this build, as it will massively increase your offense and defense for having only legendary gear equipped. Bane of the Trapped and Zei's Stone of Vengeance will generally be the other best choices for Legendary Gems, both of which will further increase your damage.
Equipment Stat Priorities
Slot
Stat Priorities
Weapon
1. Damage Range
2. Socket (using Ramaladni's Gift)
3. Cooldown Reduction
4. Area Damage
5. Damage %
6. Intelligence
Off-Hand
1. Cooldown Reduction
2. Critical Hit Chance
3. Area Damage
4. Maximum Arcane Power
5. Meteor Damage
6. Arcane Power on Critical Hit
7. Intelligence
Helm
1. Socket (Flawless Royal Diamond)
2. Arcane Power on Critical Hit
3. Critical Hit Chance
4. Maximum Arcane Power
5. Meteor Damage
6. Intelligence
Gloves
1. Cooldown Reduction
2. Critical Hit Chance
3. Critical Hit Damage
4. Area Damage
5. Intelligence
Shoulders
1. Cooldown Reduction
2. Area Damage
3. Intelligence
4. Vitality
5. Life %
Chest
1. Sockets (3 Flawless Royal Rubies)
2. Intelligence
3. Vitality
4. Life %
5. Elite Damage Reduction
6. Armor
Pants
1. Elemental Damage
2. Intelligence
3. Vitality
4. Armor
5. Sockets (2 Flawless Royal Rubies)
Boots
1. Meteor Damage
2. Intelligence
3. Vitality
4. Armor
5. All Resistance
Rings
1. Socket
2. Cooldown Reduction
3. Critical Hit Chance
4. Area Damage
5. Critical Hit Damage
6. Damage Range
Amulet
1. Socket
2. Critical Hit Chance
3. Critical Hit Damage
4. Elemental Damage
5. Area Damage
6. Cooldown Reduction
Bracers
1. Elemental Damage
2. Critical Hit Chance
3. Intelligence
4. Vitality
Belt
1. Intelligence
2. Vitality
3. Life %
4. Armor
5. All Resistance
Paragon Points
| Core | Offensive | Defensive | Utility |
| --- | --- | --- | --- |
| 1. Movement Speed | 1. Cooldown Reduction | 1. Armor | 1. Area Damage |
| 2. Maximum Arcane Power | 2. Critical Hit Chance | 2. Life % | 2. Resource Cost Reduction |
| 3. Intelligence | 3. Critical Hit Damage | 3. All Resistance | 3. Life per Hit |
| 4. Vitality | 4. Attack Speed | 4. Life Regeneration | 4. Pickup Radius |
Resources & Links